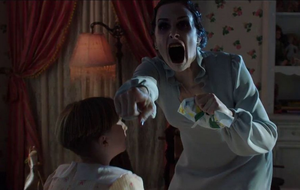 The Crane's lair is the primary location of the two main antagonists of Insidious Chapter 2, Parker Crane and his mother.
Description
The Red Door leads to a large room with pink and blue wallpaper. The room is filled with toys, clothes and other objects that are meant for the use of children.
The room later turns dark and is filled with the dead corpses of Parker Crane's victims with sheets covering the bodies and rocking horses covered in cobwebs.
History
When Elise and Carl enter the room, they find Parker's mother abusing him so that he may understand that he is female. Once seeing them, Parker's mother screams and slams the door shut.
Ad blocker interference detected!
Wikia is a free-to-use site that makes money from advertising. We have a modified experience for viewers using ad blockers

Wikia is not accessible if you've made further modifications. Remove the custom ad blocker rule(s) and the page will load as expected.